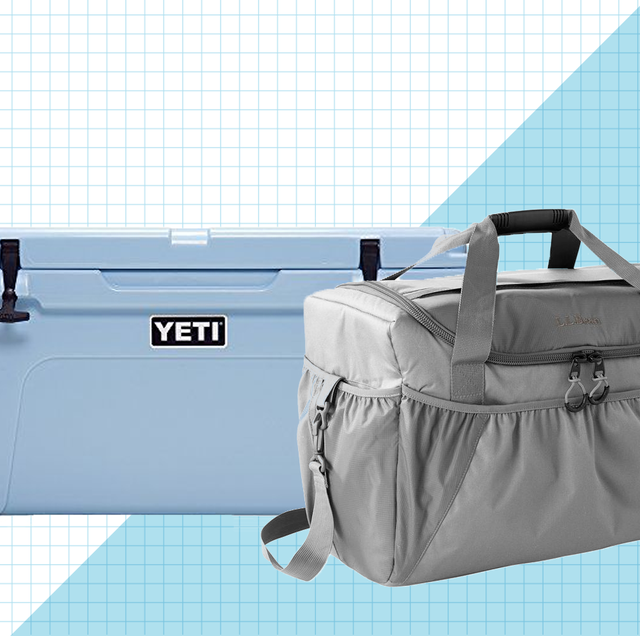 While an ineffective cooler means warm turkey sandwiches at the beach, a quality cooler can keep your picnic fis cold for days. The GolfHr Institute Kitchen Appliances and Technology Lab tested dozens of coolers — first, by filling them with cans of chilled soda and ice and monitoring how long the soda stayed below 40°F when in a climate-controlled chamber that was 90°F and 90% humidity. Next, we packed and unpacked each cooler to determine ease of loading and unloading. After letting each one sit overnight with a puddle of cola and an onion chunk at the bottom, we scrubbed them, then peered and sniffed, checking for stains and odors. To determine how convenient each cooler is to transport, we looked for features like padded shoulder straps, ergonomic handles, and wheels. Then we used a drop testing machine to evaluate durability.
These winning models keep their cool even in the most sweltering temps. For lunch box fare, check out our favorite food-storage containers, too!
1
Top Lab Pick
Igloo MaxCold Quantum Roller Cooler
The telescoping handle and wheels are a game changer when it comes to carrying food and drinks for the whole family. It holds up to 52 quarts of food or 85 cans — and can be counted on to keep them cold for 20+ hours, even in the heat.
2
Best Value
Arctic Zone Titan Deep Freeze Zipperless Cooler
This one's the best of both soft and hardside worlds. Plus the lid on Arctic Zone's Titan DeepFreeze Zipperless Hardbody Cooler seals without a zipper and the 16-can bag features a removable divider shelf inside, so you can put heavy items like soda in the bottom and keep delicate sandwiches on top.
3
Best for Beverages
Igloo Party Bar
A must have for the outdoor entertainer, this mammoth 125-quart cooler holds up to 211 cans (plus ice) and comes with a built-in bottle opener. The four wheels are also attached to a removable base, so you can roll the drinks to the party and then remove the base to ensure it stays put.
4
Best for Picnics
Arctic Zone Insulated Picnic Satchel
The Arctic Zone Satchel comes with three nesting plastic food storage containers (perfect for keeping leftovers at a safe temperature) and holds up to 23 quarts. When it's not in use, you can collapse the soft-side tote for storage in your kitchen cabinet or trunk — that way you'll always have it on hand for impromptu picnics.
5
Best Soft-Sided Cooler
L.L. Bean Family Softpack Cooler
In our testing, L.L. Bean's Family Softpack Cooler kept cans frosty for more than 24 hours at 90°F and 90% humidity. The duffel-style cooler bag holds up to 40 quarts (about 44 cans) and comes with a detachable shoulder strap and long handles.
6
Best Tote
L.L. Bean Large Insulated Tote
This L.L. Bean tote comes with a padded adjustable shoulder strap that's super comfortable for carrying to the grocery store, on a hike, or just to the office and back. The insulated interior will keep up to 17 quarts cold for hours. You can easily wipe the inside clean and don't have to worry about odors if spills aren't wiped up ASAP.
7
Easiest to Pack
Columbia Perfect Cast Thermal Tote
Thanks to its wide mouth and easy-pull zipper, this Columbia tote is super easy to open and pack. This spacious soft-sided bag holds 39 quarts (or up to 50 cans) inside, and has a removable liner to help prevent leakage.
8
Most Durable
Yeti Tundra 65 Cooler
It's a splurge, but this cooler from the ultra-trendy Yeti brand will keep your food cold all day (if not all week). It comes with tie-down slots so you can anchor it to your boat or truck, and the heavy-duty rubber latches, rope handles, and non-slip feet keep it from sliding.