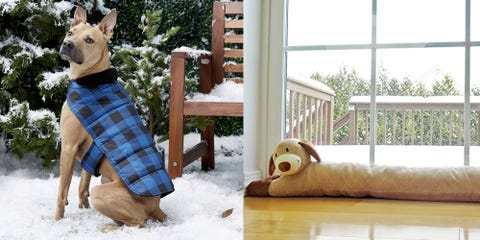 Another week, another — and that means not only bundling yourself up in layers, but your pets too. Whether you own a short-coated Italian Greyhound or an uber-fluffy Siberian Husky, everybody appreciates a comfy, cozy moment, so keep your doggos warm this winter with just the right stuff. These dog beds, booties, coats, and more will protect them from the bitter cold once those winds pick up and the salt goes down.
1
K&H Pet Products Heated Pet Bed
You love your electric blanket. Now give your pet the same treatment with a snuggly heated dog bed. Bonus: The heater comes out so you can throw it in the washing machine.
2
ON SALE
My Busy Dog Water Resistant Dog Shoes
3
BEST SELLER
Musher's Secret Pet Paw Protection Wax
More than 3,000 Amazon reviewers gave this protective wax a perfect five-star rating. Apply just a little dab a few times a week to to stop snow and ice from sticking to dogs' feet and pads smooth and moisturized.
4
MAGZO Door Draft Stopper
Cold breezes sneak under the kitchen door and head straight to his dog bed. Insulate the entryway (and save on your heating bill) by using a draft stopper during the winter.
5
EDITOR FAVE
Evelots Dog Door Draft Stopper
... Or you can get this one that actually looks like a dog.
6
ON SALE
Pawz Rubber Waterproof Dog Boots
If your dog is constantly losing his shoes, try these budget-friendly rubber alternatives. They're reusable, but also come in packs of 12 in case one goes MIA during an outdoor play session.
Stick this electric mat on top of their favorite sleeping spot, or keep it on the sofa for cozy cuddle time. Adjustable temperature settings range from 80-130℉ so you can program it jusssttt right, and there's an auto-shut-off feature if you're worried about forgetting to turn it off.
8
Great Value
Frisco Reversible Dog Puffer Coat
With a water-resistant, wintry plaid on one side, and cozy, black fleece on the other, you can flip this coat based on the forecast.
9
ON SALE
furrybaby Premium Fluffy Fleece Dog Blanket
If your dog drags his raggedy blanket all over the house like Linus from Peanuts, upgrade to a fluffy, machine-washable throw. It comes in four sizes for pups both big and small.
10
PetBoBo Twist Knit Dog Sweater
Can your dog ever own enough adorable sweaters?! (The answer is no.)