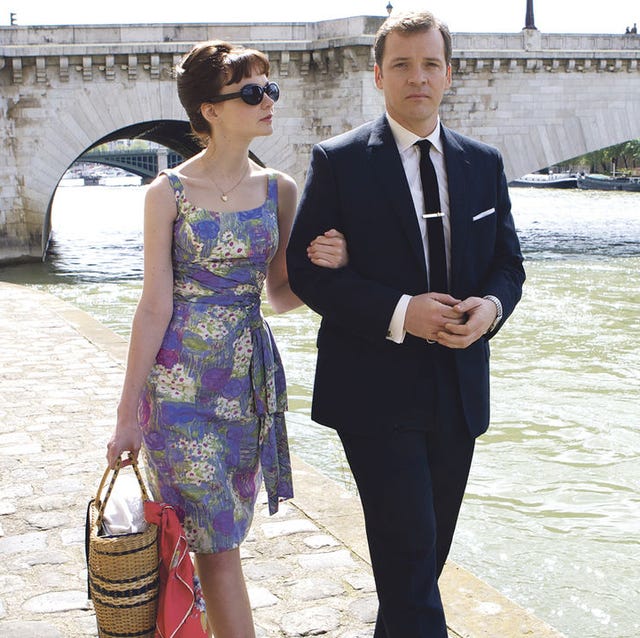 There are many paths from childhood to adulthood, and there's no one true marker of when the switch happens: It could be brought on by a first love (or first heartbreak), a loss of innocence, or the acquisition of a newfound responsibility. But no matter how it happens, the bittersweet nostalgia that goes along with coming-of-age stories is always ones that stirs up big feelings. Here, some of the best movies about growing up.

Lady Bird's Christine is an unusual character because she doesn't fit into any of the high-school "types" most movies focus on. She's not exactly cool, she's not an overachieving nerd, and she may be rebellious but it doesn't get her anywhere. In that way, her messy, dramatic high school experience hits a lot closer to home than a lot of the Hollywood shined-up versions.
This dreamy meditation on growing up follows a young Chiron at different ages, so you can see how the places he finds empathy and kindness as a kid shape him as an adult. The gorgeous result won the Academy Award for Best Picture.
RELATED: All of the Most Scandalous Moments in Oscars History
This is one of the few films where you actually get to see the star grow up before your eyes; Richard Linklater filmed with actor Ellar Coltrane over a period of 12 years, a little at a time, and you can watch him go from little kid to young adult on screen.
Carey Mulligan stars as a teen leading a normal — what she calls "boring" — existence until she gets swept up in a romance with an older man (Peter Sarsgaard). It all takes place in 1960s London, so the setting and costumes add to the overwhelming romantic feelings.
Juno first charmed people because of the super-slangy way she talked, but even if the 2007 diction seems dated now, underneath there's still a heartwarming story about a girl who is trying to join the ranks of responsible adults, starting with finding parents to adopt her unplanned baby.
RELATED: 27 Genius Halloween Costumes to Wear If You're Pregnant
Akeelah and the Bee (2006)
Every kid knows what it's like to strive for something. In Akeelah's case, it's the National Spelling Bee, making this movie a perfect combination of coming-of-age tale and underdog-competition story.
From Sing Street to to , everyone knows the fastest way to come of age is to start a band — or start covering a band for Rolling Stone as a teenager. Cameron Crowe directs an almost-based-on-his-real-life story of growing up amid the madcap backdrop of the music biz.
Rushmore's Max Fischer (Jason Schwartzman) is relatable to any once-geeky kid who threw himself into schoolwork or creative pursuits to try to avoid the heavier issues happening at that age. But those issues always catch up with us, and Rushmore shows how you eventually have to face them head-on.
It's Generation X's document of coming-of-age, selling out (or not selling out), and slouching into adulthood — all to an extremely '90s soundtrack (cute the Lisa Loeb). Pull your flannel out of the closet and give it a whirl.
It's the first blush of love for 14-year-old Dani, played by a very young Reese Witherspoon in her first movie role. Set in 1957, when Elvis ruled the charts, this movie evokes all of those nostalgic summertime feelings.
This movie captures the moment when you realize that you have to figure out what you want to do with your life — and that your parents, friends, and family aren't perfect and can't always help. That sounds like a harsh lesson, but it's wrapped up in a teen romance so sweet, with charming performances by John Cusack and Ione Skye, the message goes down easy.
Four best friends head out into the woods, away from adults — is there a better template for a coming-of-age film? Stand By Me, based on a novella written by Stephen King, is equal parts suspenseful and bittersweet.
The Breakfast Club (1985)
Real-life father/daughter duo Ryan and Tatum O'Neal star in this movie about a pair of con artists trying to survive the Great Depression. Little 9-year-old Addie Loggins seems like she's tough and hardened, but she does learn some heartbreaking lessons along the way.
This movie was directed by Star Wars' George Lucas, but there's not an X-Wing in sight. Instead, it's a nostalgic look back at the days of diners and drive-ins, and it follows a group of friends on their last night out before they leave for college.
Like many coming-of-age heroes, Benjamin Braddock (Dustin Hoffman) is unsure of what to do with his life after college, until he drifts his way into a love triangle with a sexy older woman and her daughter. The result was nominated for a slew of Academy Awards, and brought home the statue for Mike Nichols for Best Director.
This movie follows another coming-of-age trope: That of a teacher who somehow finds a way to relate to a seemingly lost, tough classroom of students. Sidney Poitier stars in this one, which gives another meaning to the word "class."
To Kill a Mockingbrid (1962)
Based on one of the greatest coming-of-age novels of all-time, this movie stars an Oscar-winning Gregory Peck as Atticus Finch, the one lawyer in town willing to defend a man falsely accused of a crime. But it's Finch's 6-year-old Scout, who, through the events of the trial, sees her father and whole town in a new light and really gets her first taste of adulthood.
Rebel Without a Cause (1955)
James Dean's portrayal of young-adult angst was so powerful, the The Library of Congress awarded the movie a spot int the National Film Registry. Sadly, Dean died in an automobile accident shortly before the movie's release, making it a tragedy on-screen and off.
RELATED: 30 Classic Movies on Netflix That'll Make You Feel Extra Nostalgic
The Magnificent Ambersons (1942)
Orson Welles directs this film, about one family's declining fortunes as the country moves into the era of the automobile. There's something about watching a coming-of-age movie from so long ago that shows you how some things haven't really changed (love triangles persist throughout the ages), and how they have (no social media).