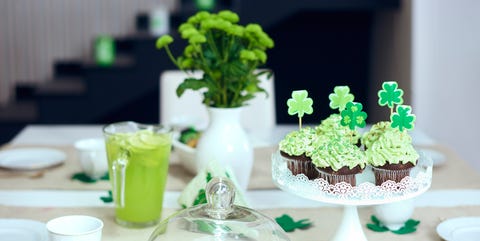 Green beer might come to mind whenever St. Patrick's Day is mentioned, but this special holiday actually has more to offer to kids! Plan an entire day celebrating the luck of the Irish with fun crafts, tasty desserts, and trying to stepdance in your living room. Whatever you decide to do, your little one will no doubt feel magical.
Don't forget to check out GoodHousekeeping.com's St. Patrick's Day Guide.
1
Learn the history behind St. Patrick's Day.
2
Get creative doing St. Patrick's Day crafts.
Get into the spirit by spending the day making these kid-friendly crafts. When your little ones are happy with their shamrock wands, they can move on and make their own shamrock pins!

3
Test your luck playing a St. Paddy's game.
There's always time to play a St. Patrick's Day-themed game. Organize a scavenger hunt, rainbow coin toss, and even pin the clover on the leprechaun.
4
Bake special desserts together.
5
Host a St. Patrick's Day party or brunch.
6
Go to a St. Patrick's Day parade.
Get out your favorite green shirt and head over to your local St. Patrick's Day parade. Festivities usually last way after the parade is over, so prepare for a full day of excitement.
7
Learn how to stepdance.
Whether you make it more like cake or actual bread, it's delicious and a great way for kids to develop cooking skills.
RELATED: How to Make Perfect Soda Bread
9
Create a special playlist.
Enrich your children's lives by exposing them to the Irish culture through music. Listen to classics or modern hits, and if you become stuck, has you covered.
10
Make an traditional Irish meal.
March is still chilly, so warm up with a classic Irish stew. You can even make some in a slow-cooker, so you can go about celebrating and come home to a perfectly-cooked meal.