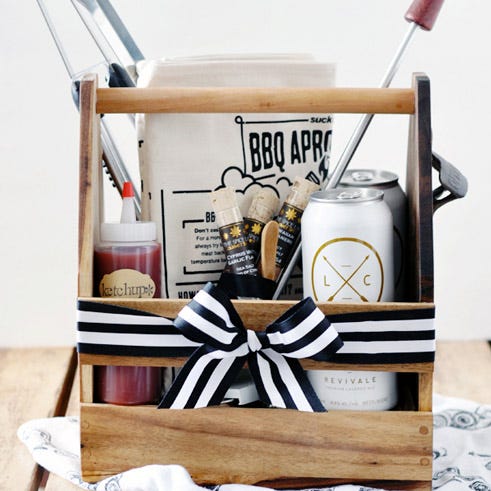 Even Mr. Tough Guy loves a Father's Day gift that pulls on his heartstrings. Go the extra mile with one of these DIY ideas to celebrate Dad's grilling skills, beard, and his undying love for his family (and beer!). They'll earn you one of his signature bear hugs, for sure. And if you pair the gift one of these handmade cards, then you'll really steal the show (and his heart).
Since you know he really just wants a case of his favorite beer for Father's Day...
2
Instagram Picture Frame
If it was a milestone year in your family (new baby! graduation!), this wooden frame will serve as a highlight reel for Dad to enjoy for years to come.
5
Grill Master Hanging Display
Remind him of his outdoorsman spirit with a leather drink sleeve. It's way better than a store-bought "World's Best Dad" mug.
For a masculine touch, make homemade candles in paint cans. Plus, Dad will definitely appreciate that they keep the mosquitos away when he's camping or grilling.
Dad will finally use a coaster if it looks as cool as these personalized rustic ones.
If Dad's got a scratched record laying around, give it a new life as a bowl to store small trinkets and tchotchkes.
Treat his five o'clock shadow to a nourishing blend of grapeseed oil, olive oil, and an essential oil of your choice (we vote sandalwood!).
Restock the grill master's cookout arsenal for summer with new tools, top-notch condiments, and his very own apron.
13
Geometric Leather Mouse Pad
Amp up his desk with a leather mouse pad. You'll need a rotary cutter for this project, so be careful, will ya?
14
DIY Pour-Over Coffee Stand
Let him know he's your bulwark in the storm with this print-and-trace project.
16
Printable Father's Day Gift Tags
In muted, monochrome shades, these block letter printables will be the cherry-on-top of Dad's gift.
You'll need a picture of Dad (Start looking!) and a snazzy bow tie for this gift-meets-card hybrid.
A tie may be a cliché Father's Day gift, but a tie that you made yourself? That's special!