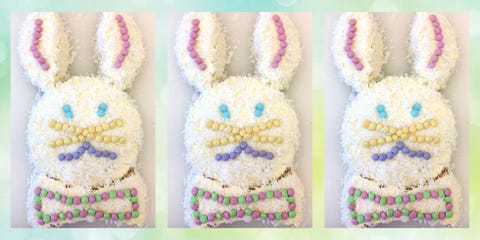 No need to buy pricey (they'll just collect dust 364 days of the year!). Instead, make this cute cake with pans you already own. Don't stop here: Try more springtime cakes, cupcakes, and treats before the Easter bunny comes hopping by!
You just need a few supplies to make this adorable cake come to life:
• 1 box of your favorite cake mix (or make your own!)
• 1 jar of your favorite icing (or follow our homemade buttercream recipe!)
• 1 bag shredded coconut ($2, )

• 1 bag Easter M&M's ($3, )
• 2 8-or 9-inch round cake pans ($11 for set of 2, )
• 5 small bowls ($15 for six, )
• Hand mixer ($65, )
• Cake knife ($4, )
• Icing spatula ($7, )
Follow the directions listed on the cake mix box or recipe. Once you give the batter a good mix, split it evenly between two cake pans and bake as directed. Let them cool completely.
Here comes the tricky part: Starting at 11 o'clock, cut a half moon shape out of one of the cake rounds. Repeat this step on the other side making the exact same cut, but start at 1 o'clock. And just like that, you have two ears and a bow tie!
Whip up a fresh batch of buttercream or take hold of your favorite jar of store-bought frosting, and frost the bunny, bow tie and all. Sprinkle coconut all over the cake, pressing it into the frosting so that the flakes are nice and secure.
Step 4: Get Matchy-Matchy
Satisfy your inner neat freak and organize the chocolate candies by color. Trust us: this will make decorating the cake so much easier.
Step 5: Give Your Bunny a Face
Get creative with your M&Ms and make ears, eyes, whiskers, a mouth, and bow tie outline. Then you're done! Place it at the center of your dessert table and watch it disappear in minutes (make sure you grab a slice!).