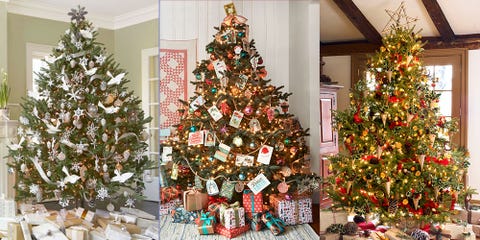 Yarn-Wrapped Tree
Pops of pink on DIY ornaments and a pennant-style garland snipped from felt make this spruce extra merry. Just wrap yarn around a plastic or foam ball and glue to secure.
Jingle Bell Tree
You know the saying "I'll be there with bells on"? This theme takes it quite literally – and looks fabulous.

Christmas Card Tree
Whether you display all the greetings that come through the mail or snap up vintage postage on or , this is one quick way to make spirits bright. Simply clip cards to string with mini clothespins and you're done.

Pinecone Tree
Natural pinecones, gold pinecones, glitter pinecones: This fir has them all. (And we bet a few scented ones too, for good measure.)

Bow-Topped Tree
Red and white is tried and true, especially when it's executed this well. An eclectic assortment of snowflakes, turtle doves, stars, sleds, balls, and more look perfectly coordinated in the same color scheme — right down to the tied ribbon up top.
Cornucopia Tree
Crowned with a twig star and wrapped with a garland of red burlap, this towering tree packs in the DIY treats: dried orange slices and lady apples, walnuts gilded with gold paint, brown paper cornucopias filled with berries, mini cranberry wreaths, and tucked-in pinecones
Gold Medal Tree
Gold and its classic companion (white!) make this arrangement a winner with or without tinsel. Load up on inexpensive ball ornaments first and then sprinkle in your favorite treasures for the most bang for your buck.
Charlie Brown Tree
If you're faced with slim pickings at the tree lot, don't despair. If the Peanuts movie taught us anything, it's that you don't need a big spruce to find the "true meaning of Christmas." Plus, a pint-size version is totally cute.

Cozy Felt Tree
From the twisted icicles down to the scalloped skirt, you can outfit an entire tree with . Just fire up the hot glue gun and get snipping.

Kris Kringle Tree
Pay homage to the man in the red suit by hanging tiny hats and ho ho ho ornaments made with stick-on letters. The crowning touch for this Santa-centric tannenbaum: a classic fur-lined hat.
We Three Kings Tree
Blue, purple, and gold don't usually appear together during the holidays, but this Magi-inspired fir makes the jewel tones work. Stick on traditional ornaments for even more bling.
Peppermint Candy Tree
Aqua accents take the traditional color combo to the next level. Tape together garlands of and hang old-school with ribbon for even more sweet treats.
Season's Greenings Tree
When there's lots of evergreen around, shades of lime and mint feel like a breath of fresh air. Pair verdant trimmings with a classic gold star and silver wrapping paper for subtle shimmer.
Black and White Tree
This blogger put a twist on a classic color scheme by decorating the tree with striped ribbons and golden ball ornaments.

Flower Power Tree
If you've had enough of the white snow, or are more of a summer person, this colorful flower bomb of a tree will put a smile on your face every day.

Merry and Musical Tree
Baby, It's Cold Outside is just one of many carols you can display with a garland. This blogger strung painted, glittery letters with red ribbon to hang hers.

Countdown Tree
A spin on the traditional Advent calendar, this Christmas tree is a bold, colorful way to count down the days until the holiday.
Feathered Friend Tree
This tree is for the birds — and that's a good thing! The birdhouse ornaments and leafy garland came together with craft store finds.

ABCs Tree
If you've got some extra-eager students at home, sneak in some education this holiday by hanging letters of the alphabet in primary colors.

Relaxed and Rustic Tree
This blogger's background (growing up on a farm) inspired her tree. Instead of purchasing most of the ornaments, she made plenty herself, dangling birch sticks, glittery acorns, and twig stars.
Seaside Tree
Rope garland and DIY sand dollar ornaments are great starting points for some nautical Christmas décor. Add in some soft blue tones and netting for a realistic representation.
Christmas Carol Tree
Mini drums, snippets of lyrics, and some silhouette ornaments make up this Little Drummer Boy-inspired tree.
Winter Wonderland Tree
These snowflakes cost next-to-nothing and make for simple yet elegant decor. Keep the look polished with white string lights.

Green Greetings Tree
Going vertical, use the same green patterned ribbon throughout your tree as you do on the presents that sit underneath.

Blue Frosted Tree
The soft colors make for an easy-on-the-eyes Christmas tree display. This blogger used a tree dipped in faux snow to contrast the blue ribbons that she hung from the top.

Rainbow Tree
Why just choose one color scheme when you can literally have it all? If you're super indecisive — or just a fan of multiple hues — wrap your tree in a rainbow of simplistic ball ornaments.

Snowman Tree
Instead of infusing your tree with a theme or color palette, give it serious personality by turning it into a jolly snowman.

Candyland Tree
A sweets-themed tree is made possible with tons of bright colors (especially pink!) — which look even better against faux white needles. This blogger also used homemade peppermint swirls to match.

Был найден мной интересный сайт , он описывает в статьях про
охрана клубов
.
У нашей организации полезный веб портал , он описывает в статьях про
https://pills24.com.ua
.