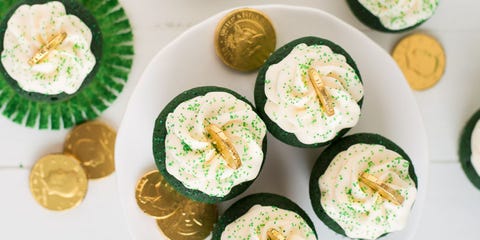 Since four-leaf clovers are hard to find, make your own luck with heart-shaped muffin pans.
Freshen up after a hearty feast with this tangy tart, complete with gluten-free crust.
A fresh take on an American classic, this minty dessert is like Andes Creme de Menthe Thins but way, way bigger.
5
Lucky Charm Ice Cream Sandwiches
Sandwich your favorite ice cream with luck (well, Lucky Charms and gooey marshmallows).
6
Peek-a-Boo St. Patrick's Cake
Treat your party guests to a sweet surprise one they slice open this chocolate cake.
7
Green Velvet St. Patrick's Day Cupcakes
There may not actually be a pot of gold at the end of the rainbow, but these cupcakes topped with chocolate gold coins are pretty darn close.
9
Bailey's Irish Coffee Caramel Brownies
You are going to want to smother everything you eat in this drool-worthy Bailey's ganache.
10
Whiskey Chocolate Truffles
These five-ingredient truffles are a simple, sophisticated way to celebrate the Irish.
Wait. Did you guys know these sour candies look exactly like rainbows? You do now.
12
Mint Chocolate Lasagna
The best part about this minty, chocolatey lasagna is that there's no baking required. Just refrigerate for 30 minutes and you're done.
This ombré layer cake, which deepens from cream to mint to emerald, beats out any rainbow treats — hands down.
14
St. Patrick's Day Oreos
If you're pressed for time, these dip-and-go Oreos, splattered with "green" white chocolate, are ready in minutes.
15
Chocolate Mint Andes Brownies
It's your lucky day: Your favorite mint chocolates (seriously, those green wrappers are iconic) has been transformed into a decadent frosted brownie.
Topped with a drizzle of melted chocolate, these boozy bites are best paired with Irish coffee.
This adorable dessert combines sweet and salty flavors into something that's totally perfect for St. Paddy's Day.
No baking required: All you need is Nutter Butter cookies and festive candy melts to make this lazy (but delicious) food craft.
If there's cereal in these cookies that means we can eat them for breakfast, right?
20
Guinness Pretzel Truffles
21
St. Patrick's Day Sugar Wafers
These sweet, crispy wafers are easy to make, even the kids can pitch in!
Make your friends and family feel extra-lucky with a big batch of this shamrock bark.
This rainbow-colored treat doubles as an excellent afternoon for kids.
24
Leprechaun Hat S'mores
These leprechaun hats are almost too cute to eat — but they're so delicious, we can't resist.
26
Paleo Irish Cream Mocha Pudding
Featuring decadent coconut cream and espresso, this pudding recipe will satisfy your vegan and dairy-free guests.
27
Pistachio and White Chocolate Pudding Cookies
Forget green food dye, these nutty cookie-meet-pudding hybrids are dyed green the natural way.
You might not know this but beer tastes best in chocolate. Feel free to sub coffee if you need a caffeine kick.
29
Green Velvet Cheesecake Bars
If red velvet is the cake of choice on Valentine's Day, green velvet is the thing to bake on St. Patrick's Day.
One advantage of whipping up this nostalgic drive-through milkshake at home is that you can spike it with your booze of choice. We encourage it.
31
Irish Cream Ice Cream Cupcakes
Once upon a time, there was an Irish cream mocha cake got topped with Irish cream ice cream, toffee bits, and whipped cream...
32
Guinness Snickerdoodles
You don't have to be Irish to put beer in places where it doesn't normally go. Try it with these spiced snickerdoodles and you may never turn back.