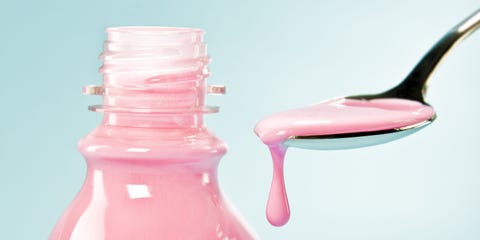 More than 60 million Americans experience heartburn at least once a month, and 15 million suffer from it daily, according to the . At one time or another, almost everyone has dealt with the indigestion, belly bloat and bitter-tasting acid that come with it.
While diet plays an enormous role in this condition (also known as gastroesophageal reflux disease or GERD), a "don't eat these foods" list like the one below isn't the be-all and end-all. "These are general rules — it's not the same for everyone," states , author of .
In order to create your individualized plan, Taub-Dix recommends following her "Slow Singular Introduction" strategy. "If you've been avoiding a certain food and want to add it back into your diet, that's fine," she says. Just wait until you're symptom-free before reintroducing one food at a time.
Until then, steer clear of these usual suspects:
No bottoms up during happy hour — or any hour — if heartburn is a chronic issue. "Alcohol relaxes that sphincter [the ring of muscle fibers that separate the esophagus from the stomach], which could make acid come back up," explains Taub-Dix. "Plus, alcohol is an irritant and stimulates the production of acid." In other words, go with the virgin version.
While this minty beverage can be extremely helpful in soothing the digestive tract, it may elicit the opposite reaction in those who suffer from symptoms of acid reflux. "Opt for chamomile tea or ginger tea, which can help cut gas and bloating without pushing the reflux button," suggests Taub-Dix.
"The bubbles of carbonation expand inside the stomach," explains Dr. Jamie Koufman, author of . "The increased pressure contributes to reflux." This includes store-bought fruit juices, sport drinks, energy drinks, vitamin waters, seltzers and of course soda. "All carbonation is suspect, so I recommend abstinence," she says. "Please quit!"
Sorry, chocolate lovers. "Chocolate seems to cause more reflux than any other food," states Dr. Koufman. The three reasons: It contains cocoa, lots of fat and stimulants like caffeine — all of which spell big burn. "Theoretically, dark chocolate isn't as bad as high-fat milk chocolate," she adds. "But let's face it, all chocolate is bad for reflux."
"The biggest offender of acid reflux — and a lot of people do not realize this — is portion size," says Taub-Dix. She explains that if the stomach is overstretched, then the sphincter that closes after swallowing will not remain shut. That's when acid enters your esophagus and creates reflux.

Keep in mind this advice pertains to overeating even the most nutritious, "least offensive" foods. Avoiding a big meal in the evening reduced symptoms in over 500 patients with GERD, according to a 2014 study in . "I've seen it in many of my patients," adds Taub-Dix. "Smaller portions alone can be a huge help."